• Sherri Bourdage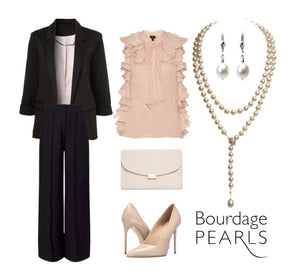 Pearl jewelry often ends up being the most treasured heirloom in the family. It is classic & timeless & connects us through water energy. But what kind of pearl jewelry should you get for her? What does she do during the day that would make it appropriate for everyday wear? Will it support her wardrobe & career needs? Does she have a special occasion or a favorite "Power Suit"? Does she like minimalistic or bold? Is she endowed with a robust chest? If yes, go shorter. Fear not, for Bourdage Pearls is here to help you sift through the different pearl...
---
• Sherri Bourdage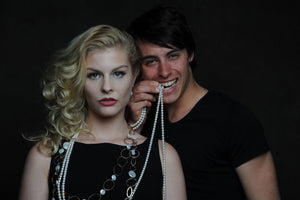 Be careful before you touch her pearls!
---
• Sherry Bonelli
Pearls are a timeless accessory fit for any occasion, especially for the occasion of all occasions: your wedding day! And according to Vogue, pearls are taking center stage for the summer 2016 season as the "it" piece of wedding jewelry. Here are the top four reasons why pearls are perfect for any wedding wardrobe:    Pearls offer unmatched versatility. Pearls can provide a subtle accent with a single strand necklace and tasteful studs. For bolder brides, layered strands or colored hues can make a major statement. Whether the look is classic or modern, pearl jewelry is available in a variety...
---
• Sherri Bourdage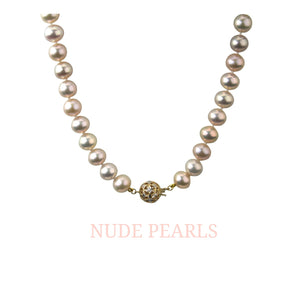 Most people are familiar with white pearl jewelry, but may have not yet discovered the unique & utterly delightful phenomenon of pink pearl jewelry.  Naturally pink freshwater cultured pearls are created primarily in the region of the mussel close to it's hinge, which typically features more cream and pink hues.   Why Pink Pearls? Pink pearls promote women's empowerment.  As we women know all too well, women are often criticized in the workplace for the same behaviors that men are praised for.  Professional working women, especially those in positions of power, are often accused of being "bossy" or "too aggressive" while their...
---
• Sherri Bourdage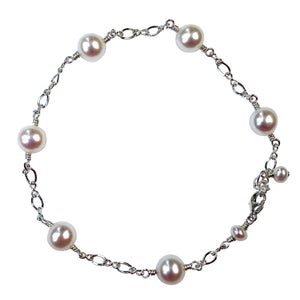 For many centuries pearls have been the rarest, most expensive type of jewelry, available only to the upper class & royalty.  Because of the exorbitant cost of pearls, the Add-a-Pearl tradition was started, allowing families to add-on just one pearl every year for their daughters' birthdays and other special occasions, rather than having to spend a large sum all at once.  Fortunately, in the 1990s, high quality & affordable freshwater-cultured pearls came on the scene.  In fact, pearls are so affordable now, that you could give your daughter or niece a whole new piece of pearl jewelry every year!   How It Works    ...