• Blake Trendel
  Summer is finally here and June is busting out all over!  That means it's Pearl Girl Time.  Pearl is the birthstone for June, making pearl jewelry the perfect birthday gift for the junebug in your life.  Whether she likes to be pretty in pink, classic in white, or fun & colorful, Bourdage Pearls has the perfect gift for you!   Pearls: the "Queen of Gems" Before the invention of cultured pearls in the early 1900s, pearls were so rare and expensive that only royalty could afford them.  While today's working professional woman can easily acquire a gorgeous statement pearl necklace...
---
• Sherri Bourdage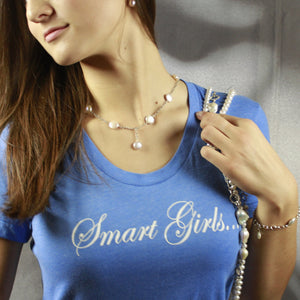 It's that time of year when college graduates toss their caps to years of hard work and future endeavors. There is still plenty of time to grab that perfect gift.  And, what perfect way to commemorate success for the "just-entering-the-workforce" woman, than with a memorable set of pearls that will stand the test of time and be cherished for years to come. Pearls are an eco-chic accessory that fit right in with the "go green" campaign of today's generation. The pearl industry depends on clean water, as oysters can only produce pearls in the purest of waters. Ensuring...
---
• Sherri Bourdage
    The pearl button earring is a classic, failsafe way to look elegant, smart and put together for any occasion. Do it like European women and make sure your wardrobe includes at least one pair!  For you guys out there who are looking for the perfect pair of earrings to buy for wives and girlfriends, let us reassure you that you cannot go wrong with a classic pair of creamy, classic and lustrous button earrings. But before you go splashing out on her, make sure you know which sizes are available. Below is a helpful sizing guide so you can...